Acrylic Splashbacks
Datco Industries are distributors of Plexiglas Hi-Gloss acrylic splashbacks. Plexiglas Hi-Gloss is co-extruded (not painted) which produces a beautiful glossy finish that looks just like glass. Acrylic splashbacks are much stronger than glass yet are less than half the weight, making installation much easier and safer.
Datco Industries can supply all panels cut to exact requirements. Laser cut panels can be supplied in any shape with cut outs for light switches and electrical sockets included. Datco Industries specialise in supply- ing panels that are ready to be installed. If required acrylic panels can be modified on site using basic tool- ing, unlike tempered glass which would have to be returned to factory.
When used as a splashback in a kitchen the distance between the outer edge of a ceramic hob and the wall must be at least 60mm, and 200mm from all gas hobs.
ADVANTAGE OF ACRYLIC SPLASHBACKS
High gloss, hard coated surface
Ease of installation
Impact strength much higher than glass
Much lighter than glass
Can be cut and drilled with normal power tools
Large panel sizes available
Laser cut to size with required cut outs
Can be installed over existing tiles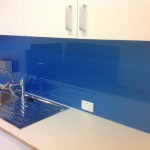 Plexiglass Hi-Gloss